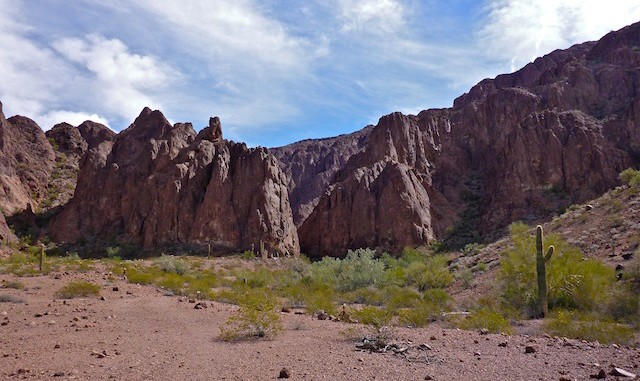 I was last out here 13 months ago, when I attempted to find an arch near the trailhead, then hike up canyon, through Hidden Valley Tanks, then do the loop. I did not feel it was safe to side-slope the steep slick rock adjacent to the tanks, and was unsure about the drop off on the far side, so turned back. Today, I completed the loop, except approaching Hidden Valley Tanks from the west, external, side. The trailhead is located between Quartzsite and Yuma, a mile east of U.S. 95, three miles north of the Border Patrol checkpoint.
The formations in the Castle Dome Mountains are not all that tall, but they are extremely rugged, with many sheer faces, or extremely steep drainages. The mountains basically shoot straight up out of the ground, with the surrounding slopes being relatively mild, but cut by numerous steep & loose-sided washes. Some of the washes are smooth travelling sand, while others may be rocky, or choked with cat claw. Outside the washes, what little vegetation there is is mostly creosote, with a few scattered saguaro and ocotillo, many cholla, and quite a few Beavertail Cactus, which are currently bursting with beautiful pink flowers. There are many old jeep trails, and a few faint foot trails as well.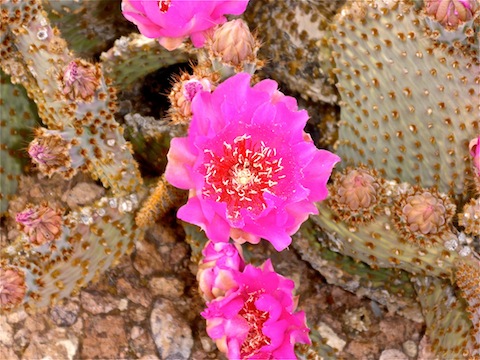 From the trailhead, I headed SSW, aiming between the mountains and a small outlying hill. Throughout my hike, I basically followed the contour where the base of the mountains transitions to the between wash spurs. That's why, despite hiking eight up-and-down miles, I only accumulated 781 AEG. (It sure seemed like more!) I thought about heading up a steep drainage above Hidden Valley Tanks, but thought better of it, and am glad I did.
I was treated to a flyby by a C-130 — an aircraft with which I am intimately familiar — headed SW towards Yuma Proving Ground. I was hoping to spot some fellow paratroopers, but no such luck.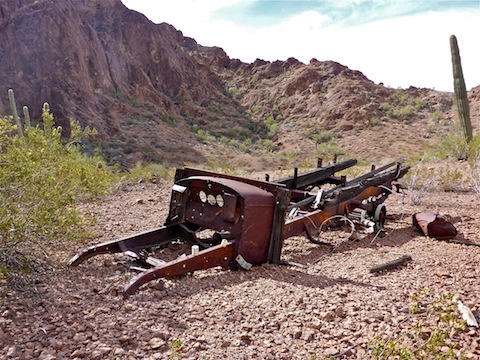 I took my time, looking for arches and bighorn sheep, but the first cool thing I saw was the wreck of an old truck, just outside Hidden Valley Tanks. It had wood framing around the engine compartment, in which there was what looked like a wood electrical mount. The engine compartment also had two ceramic insulators. It had a wooden bed, with metal springs. (No shocks, or shock mounts.) The gas tank lay to the side, as well as what looked like a compressed gas tank, for a stove or for powering tools? There was what I thought at first was an alternator, but may have been a side exhaust.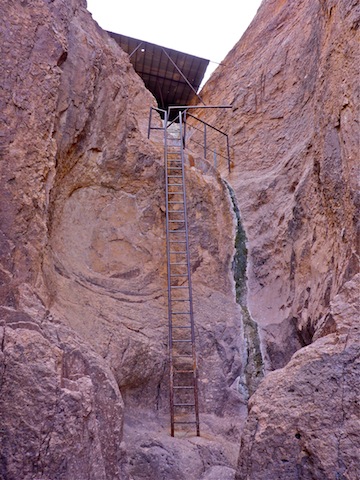 Hidden Valley Tanks were accessible to within 200 yards by a pretty good jeep trail. You could drive straight up from the highway with an SUV. Turns out the dropoff is a good 40 ft. straight down. I was amazed to find there was a somewhat rusted, but otherwise solid, ladder to the top! Since it is not cattle country in the interior, and cattle can't climb ladders, I'm not sure what the purpose of the tank is other than maybe to water the bighorn sheep? Might be a good photo op to hang out in the Hidden Valley Tanks area.
My arch count was already up to four: Two previously discovered in Hidden Valley Tanks interior, one on its exterior, and one along the way south. None of them marked on the topo. I continued south for another half mile, before turning east towards the first marked arch. There were actually two there, plus a hole in the rock with a chockstone. When I looked back, I saw yet another arch, that I just walked around. I continued up the wide wash, discovering an eighth arch and, just a few hundred yards away, a ninth. It was an Arch-O-Rama! I seriously doubt there is anywhere else with this sort of arch density — and I was only halfway into my hike!
I was starting to get tired, so rather than loop out past some small hills as I originally planned, I cut straight north from the east end of the wash. I has also considered exploring several further steep drainages, but skipped those as well. As on the east side, south side, and interior, the mountain faces were otherwise sheer.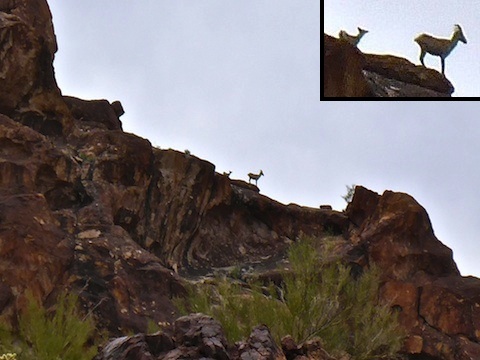 I thought about closing my loop by crossing the saddle south of the northern marked arch, but instead hiked north of it. I'm glad I did, because I spotted my very first bighorn sheep!

I was not far from where the topo claimed the arch was, and I was looking up at the double-crested hill, when in the saddle between the two, about four hundred yards away, I saw a critter profiled against the sky. Then I saw what looked like at least one more. The first was a juvenile male / horned female, while the other was obviously female. I zoomed as far as I could with my pocket camera, which I tried to hold steady despite my excitement.

The horned sheep was definitely keeping an eye on me.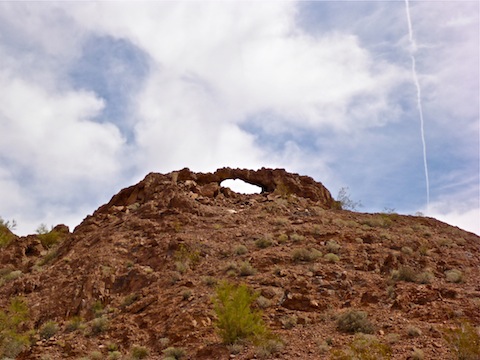 A minute later I spotted the marked arch, making it the 10th of my hike. (In retrospect: At the time I had lost count: There were so many, and thought it was the 12th.

)
From there, it was a few hundred yards along an old jeep trail, out of the wilderness area, to the trailhead.
After I finished my hike, and began my rehydration, my wife and I stopped at the seasonal Stone Cabin snack stand just north of the Border Patrol checkpoint. (Open October-March, BYOB.) We had jalapeno poppers, a brick of curley fries the size of a small block V8

, a 32 oz. ice tea, and a date shake that was the best I've ever had. (Even better than in Dateland, AZ!)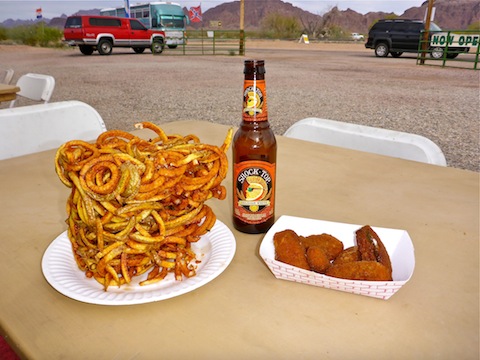 We returned home the way we came, along U.S. 60 and Carefree Highway, rather than I-10. The speed limit may be 10 mph less, and only two lanes, but there are few cops, and little traffic, so passing is easy. Plus you won't get stuck behind 20 cars for 20 miles trailing a semi doing 55 passing an RV doing 54. (Yes, that happened to me on I-10.)
GPS File: Castle_Dome_Loop (includes inner basin access route)
Distance: 8.00 mi.
AEG: 781 ft.
Time: 3h 55m
---
Hike Video