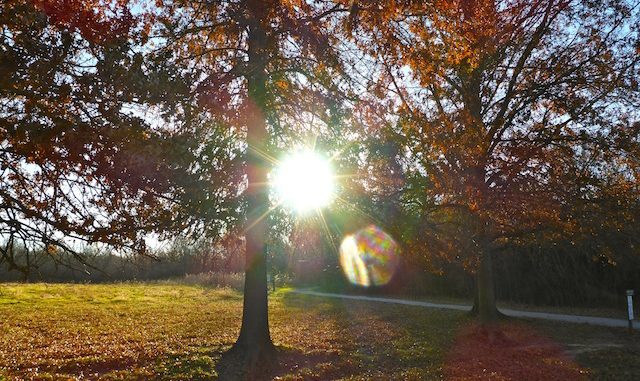 My wife and I were in Blue Springs, Missouri, just east of Kansas City, to spend Thanksgiving with our oldest son, Augie. We do that every odd-numbered year. Even numbered years, we celebrate Thanksgiving at my brother Chris's massive, 40+ people, bash in Phoenix.
On previous trips to Blue Springs, I had either settled for some cardio in the hotel exercise room or, on one early trip, when I was still a regular bike rider, renting some cycles for a spin along a local rail trail.
My goal since 2016 has been to do at least one hike everywhere I travel. This Thanksgiving, Missouri would be the 9th state I've hiked in, after Arizona (of course), California, Connecticut, Maryland, North Carolina, New Mexico, Nevada and Wisconsin. No foreign countries this year! 😁
So, I started searching for hikes in the Kansas City area. The trail had to be within an hour of Blue Springs, and be hikeable without a pack or poles, and only a single bottle of water. (All I can fit in a pants pocket without the weight pulling my pants down.) The same criteria I use for my Appalachian Trail day hikes.
Though bit more suburban than I prefer, Burr Oak Woods Conservation Area was less than 10 minutes from our hotel, even on Black Friday.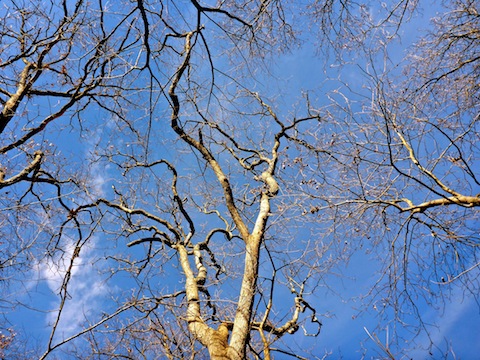 Burr Oak Woods Conservation Area is a 1,071 acre Missouri state park. Burr Oak Creek, which flows through along the west and south edge of the Burr Oak Woods, gives the park its name. The park has prairies and wetlands, but it is mostly small hills, densely forested with managed stands of oak, maple, hickory, dogwood and hornbeam. There are several creeks and at least a dozen ponds. The park has several limestone outcroppings.
Wildlife includes deer, wild turkey, raccoons, squirrels and coyote. At the center of the park is a nature center with a 168-seat auditorium and 3,000-gallon aquarium housing native fish, reptiles and amphibians.
Picnic areas, restrooms and parking lots are dotted along Park Rd., the main road into the park.
Burr Oak Woods has roughly six miles of named trails and several more miles of unnamed trails. To give me a decent amount of mileage, I would park at the Wildlife Habitat Trail trailhead, hike that, head west on Hickory Grove Trail, hike the Bethany Falls Trail, then take the Hickory Grove Trail back to where my patient wife waited.
Luckily, traffic was not yet bad on I-70 on Black Friday at 8:00 a.m. When I started hiking at 8:19 a.m., the sun was still low in the sky. In Missouri, the sun seems to rise later and set earlier than in Arizona.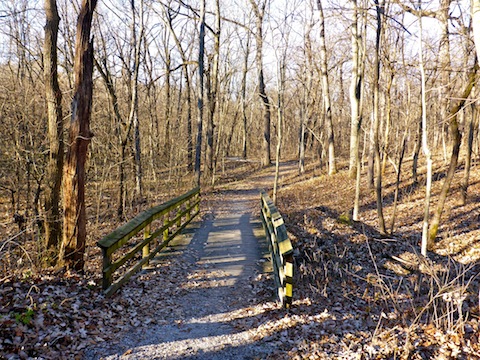 The Wildlife Habitat Trail is a 1.5 mile gravel loop. The sun, still low in the sky when I started, lit up the prairie and trees. I got a real nice sunburst photo out of it, that I used up top and as the title card in my hike video. Just a few yards down the trail was a bike rack, as bikes are only allowed on paved roads in the park. No pets allowed either, so any poo you see is likely from wildlife. Another few yards on, the loop begins and traffic is one way only. I'm serious. Seeing a one way sign on a hiking trail is one of the oddest things I've seen on a trail. If you go the wrong way, do you get a ticket? 🤨
The Wildlife Habitat Trail passes a small pond, then descends 30 ft. to the Limestone Glade. From there to the small limestone bluff a level half mile on, there are many information signs explaining Burr Oak Woods's habitat restoration efforts. The trail was covered with fallen leaves. The only wildlife I saw was squirrels, lots of squirrels.
Despite being over a mile from I-70 I could still easily hear the freeway. I imagine it is quieter when the trees have leaves.
Halfway along the Wildlife Habitat Trail, just past a bridge is the Short Loop shortcut. Go right to make your loop only 0.9 miles. I went left, shortly after which I passed the only other hikers I saw on the trail, going the "wrong way". 👮🏻‍♂️📝
From the small limestone bluff, the Wildlife Habitat Trail climbs 90 ft. before dipping to the north end of the Short Loop, then climbing another 60 ft. back to the trailhead.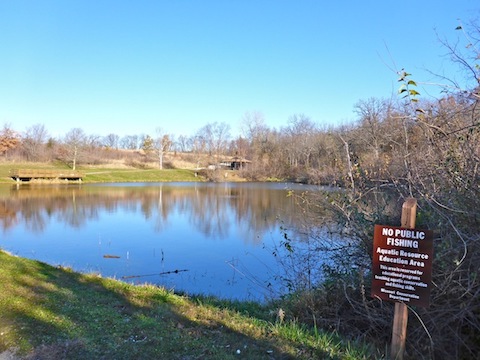 The Hickory Grove Trail is a 1.2 (one way) gravel trail that connects the Wildlife Habitat Trail to the Bethany Falls Trail. It is car-wide in many spots. After a quick stop at the trailhead pit toilet to get rid of my morning coffee, and top up my water, I headed west on through the trail's hickory grove. I have no idea what a hickory looks like. I feel like I am doing well to be able to identify oak (leaves!) and birch/aspen (white bark!). 🤓
I wonder if hickory are the source of the many heavy, grapefruit-size, yellow-green fruits / nuts I saw along the trail. (And which I also spotted along the C&O Canal a few weeks ago.) Those would really hurt if they landed on your head! 🤕
The Hickory Grove Trail descends 90 ft., past the Educational Pond and across another bridge to a confusing intersection. Right was up a rougher trail, left along a smoother one. I went left. I chose wisely.
That is quickly followed by another confusing intersection. Go right.
As it parallels Burr Oak Creek, Hickory Grove Trail crosses a cement & stone dam / culvert. My best guess is it is meant to retain water for the Educational Pond.
The only flower I saw all day was a small dandelion on the Hickory Grove Trail. I also only saw two types of mold, though one was a spectacular white china color.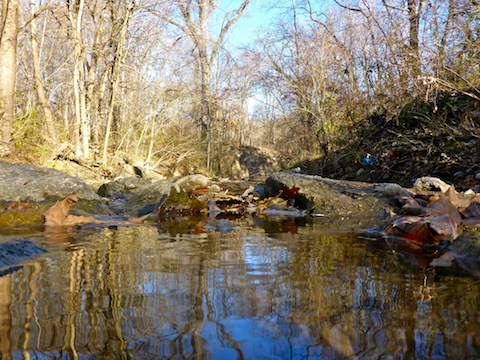 The Bethany Falls Trail is another 1.5 mile mostly gravel loop. The section through, and along, the limestone outcropping at the north end of the loop is real trail, as opposed to the suburban pathways throughout the rest of Burr Oak Woods. It actually starts from where Park Rd. enters the trailhead parking area. Since Hickory Grove Trail continued right on past the parking area, that's what I did, figuring I was on the correct path. 🗺
I did some minor rock hopping across Burr Oak Creek, which seemed odd compared to the previous few miles, but I continued on. At some smelly manhole covers, at the edge of a prairie, I reconsidered. The contours on the park map are accurate, and comparing them to the terrain around me, I realized the Bethany Falls Trail was on the east side of the prairie, not the southwest corner, where I was. Back to the trailhead I went.
Bethany Falls Trail is one of the highest rated trails in the Kansas City area, and that was reflected in the amount of cars in the lots and hikers along the trail, particularly young families. (All the Burr Oak Woods trails are kid-friendly.) 👨‍👩‍👧‍👦
No one way signs on this loop. I went left, continuing to parallel Burr Oak Creek, but up a wooded slope. I did not realize I bypassed the observation deck until I reached the homestead ruins. (A couple of walls now only a few stones high, just across a split rail fence.) I thought about doubling back, but decided it wasn't worth the time. Let me know if I chose unwisely!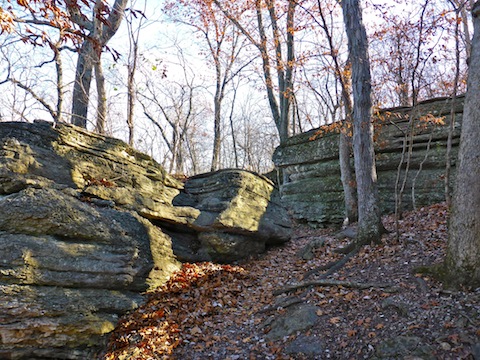 Despite traffic noise from nearby Pink Hill Rd., the limestone outcroppings on Bethany Falls Trail were the highlight of my hike. At the east end of the outcropping, the trail climbs 40ft. to a prairie. Thinking I had left my glasses behind — a common occurence when I take them off to better view a potential photo — I momentarily panicked and began backtracking, until realizing the glasses were still on my face. 🙄
Bethany Falls Trail skirts the edge of the prairie. About halfway across is the grassy Prairie Connector Trail, which heads east to the nature center. I thought about taking the shortcut, but stayed on Bethany Falls Trail back to Park Rd. I was disappointed not to actually see any falls. 😕
Back at Park Rd. I returned to the Wildlife Habitat Trail trailhead, and my patient wife, by booking it back along the Hickory Grove Trail.
---
Directions: From Kansas City, head east on I-70 to exit 20. Head north on Highway 7 for 1.3 miles. Turn left (west) onto Park Rd. Drive past the school into Burr Oak Woods Conservation Area. Park at whichever trailhead is closest to where you will start your hike.
GPS File: Burr_Oak_Woods_Conservation_Area
Distance: 6.74 mi.
AEG: 530 ft.
Time: 2h 19m
---
Hike Video