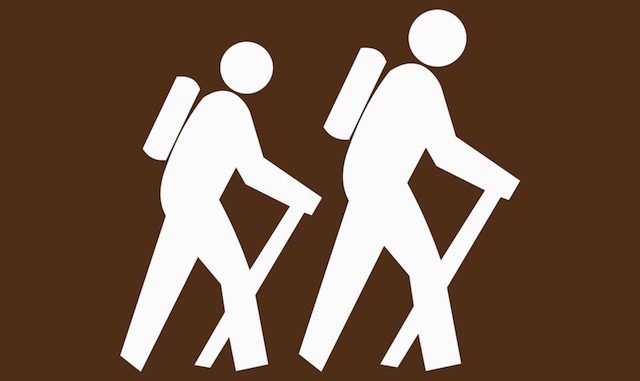 I actually hiked this, the 9th of 12 BCT segments (south-to-north), first. It was one of the first hiking triplogs I wrote.
Directions: North on I-17 to exit 248. North on Crown King Road / County 59. Go about 2 miles to intersection. Turn right / north on Crown King Road. Go three miles to trailhead, just past bridge, and before Bumble Bee. For a less confusing hike, continue through Bumble Bee. Just past the town, on the left, is a major jeep trail. Start there instead.
Report: I started hiking at 0925. The weather was sunny, slightly breezy, upper 40s. The trailhead, and the first mile or so, were jeep trail, obvious and well-marked with brown trail posts. You will cross a mine-claim fence to stay on the trail. Make sure you close the gate behind you. Just past the fence, the jeep trail splits. Left dead ends in about 100-200m. Right, not sure. Trail actually continues as a single track between the two jeep trails. I continued up the single track, until I came to a small mound. The jeep trail split left and right. Not sure which way to go, I followed white ribbon to left. Wrong answer. Trail petered out. I continued up the arroyo, hoping to hit the jeep trail which is on the map. Didn't.

I decided to bail east, hoping to either cross the hiking trail or, failing that, Crown King Road. I had to cut across two ridges, so I am pretty sure I had been up American Gulch. I hit the jeep trail right next to the abadoned mine at Hill 2875. I turned south a few hundred meters, finding Black Canyon Trail. If you are also travelling without a GPS, I recommend getting your drop-off in Bumble Bee, then hiking up the jeep trail to Black Canyon Trail, rather than hiking from the formal trailhead south of town. After that, the hike was very straight forward, and marked by blue ribbons. Smooth, fast single track, if you are on a MTB. Nice views of snowy peaks. The trail was mostly dry, though slightly muddy in spots from snow four days prior. The ground was clear of snow. Meet your pickup near the large metal water tank near the corral, at the split in road. (After your hike, take right hand split through Cordes — not Cordes Junction — to I-17.)
Later in 2011, I hiked BCT #1, BCT #2, BCT #3, and BCT #4. I have not been back due to the amount of uncontrolled shooting along those segments.
Distance: 6.10 mi.
AEG: 750 ft.
Time: 2h 10m