Mired in a Mine
3 Feb 96, Sat — Ðurðevik
Got to sleep in today. The only event of note was a health & welfare convoy to Tuzla. We had to stop three times on the way: twice because one vehicle's doors kept popping open, the third time because there was a large green can in the middle of the road. Everyone had the same thought — "mine". I told SGT Argetsinger to just drive around it, but there wasn't enough room between it and the ditch. So it fell to me to do something about it. I got out of the Humvee and slowly walked up to it. It was one of those 5-gallon lubricant cans. The cap was off, so I looked inside. It appeared empty and there weren't any obvious wires, but that didn't mean there wasn't a boobytrap wired to the bottom. There wasn't room to turn around. I could have walked to Camp Dallas, reported it as possible UXO, and waited hours until EOD removed it. But I really wanted to get to Tuzla — I hadn't had a shower in eight days. So I could only do what I did — pick up the can and toss it in the ditch. If it had been a boobytrap, I wouldn't have known it. As we drove on, SFC Libassi and SGT Argetsinger gave me shit about wiping fingers and toes off the windshield.
The latrine trailer next to Shelter #4 in Tuzla, our old quarters, was locked, so Libassi and Argetsinger wandered off to the shower building. I went in the shelter to see if any people from out unit were around and just happened to find a key behind a post. Better yet, it fit the trailer door. The toilet seat was broke, but my ass loved it anyway. The shower water was both plentiful and hot.
"I'm having a hard time getting [the troops] to complain to me about something," MG Nash said in Army Times. Every day's issue of Stars & Stripes has at least one or two bitch letters from someone in this theater. Do you think it may have something to do with the stars on his shoulders?
A soldier in 1st Brigade was vaporized by a mine today. He was on a "believed to be previously cleared route."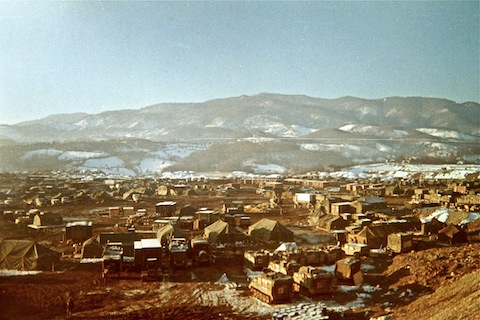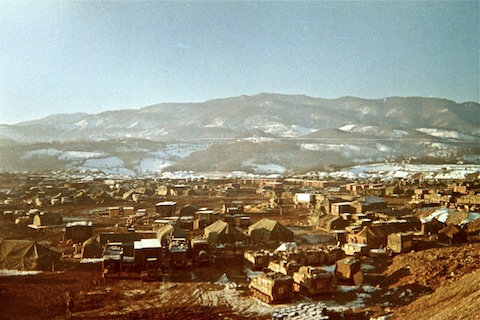 4 Feb 96, Sun — Ðurðevik
Spent the first half of the day down at Camp Dallas schmoozing with the 432nd team attached to the 3/4 Cav. They got a real nice setup in a UN housing van. The four-person van is about half the size of our tent, but it doesn't leak, has (electrical) heat, and they sleep in real (bunk) beds with real mattresses. The latrine trailer was sparkling (just like the one I used in Tuzla yesterday) because everyone removed their boots before entering it. I say "was" because then the 16th CSG moved in and proceeded to trash the place. Assholes. SSG Jakubenas fixed us up with some goodies after we helped take down a tent for them. So we returned the favor by inviting them up to our place to look at fuck books and bitch about how valorous medals are given out for butt-kissing, ticket-punching and paper-pushing.
We spent the afternoon and evening on a trip to and from 2nd Brigade (2BCT) headquarters. The HQ is on a hill outside Vlasenica, on the Serb side of the zone of separation. (ZOS is the term du jour for 'DMZ'; I swear there must be a colonel in the Pentagon whose only purpose is to think up new names for old shit.) Anyway, the ZOS in this sector was no big deal. We passed through numerous small villages and none looked even remotely like the Stalingrad we had been expecting. There were a few buildings with some damage, but the ZOS was in much better shape than your average American inner city. The 2BCT site itself is in even worse coondition than the FSB: I saw a 5-ton truck (with a 40-ton winch) get stuck in the mud. They are our next higher echelon too. God, I hope we don't get transferred there.
---
5 Feb 96, Mon — Ðurðevik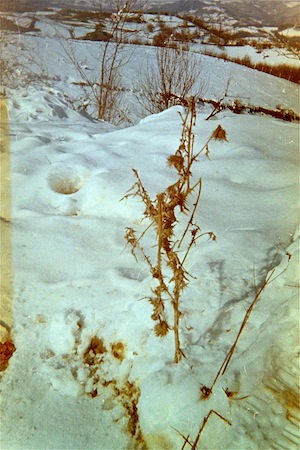 Woke up this morning with about three inches of fresh snow on the ground. Last week, same day, we couldn't leave Tuzla because the roads were "red". They might have been a little icy, but they weren't in nearly as bad a condition as they were today. By the end of the day we had at least six inches on the ground. And we had to go to Lukavac to talk to BG O'Neal, 1st AD G-4.
The road between Zivinice and Lukavac was a gigantic cluster fuck. Yugos in the ditch left and right. Trucks, buses and people all trying to squeeze by. A near total shutdown of one of Bosnia's major highways — all two lanes of it. It took us two hours to drive about 15 miles.
Wow, are the people up in Lukavac living large. Sit down mess tents; a morale tent with library and TV; heated latrine; both 110 and 220 wall outlets; weight room; centrally heated buildings; ice cream; and many other goodies. I made very satisfied use of the latrine. (I'm trying to avoid using the BSA's three-hole shitters and so far I've been successful.) I nearly lost my mind with lust when I saw someone walk by with a can of Diet Coke. So LTC Brice gave me one of his. I owe him big time: To someone with a 6-to-8 can per day habit like me, it was pure ecstasy. I didn't even throw the can away; I brought it back to the BSA with me. Like a picture of a lover, I will safeguard and treasure it.
The trip back from Lukavac was much quicker, the traffic jam having been cleared. We stopped off at Camp Dallas for more schmoozing. Bernie Rall gave me an hour-long back massage and most of her box of Bugle snacks. Best day I've had since I've been here. Life doesn't get any better than this.
---