Locked Down in Olovo
13 Mar 96, Wed — Olovske Luke
Today was supposed to be a "short day". Instead we didn't have time for showers and didn't get back to base until 1930. Normally the mess hall closes at 1830. If I hadn't called ahead (at SFC Libassi's suggestion) to reserve some meals we would have had to eat MREs for the fourth day in a row.
Add on missions were again my planning downfall. We were only supposed to drop some information on tomorrow's shindig off at the mayor's in Kladanj and Olovo. Then we were tasked with escorting a cook on a shopping trip and escorting generators to the meeting site. We went to LA Demi, CP Sandra, LA Demi, Kladanj, LA Demi, Olovo, CP Sandra and back to Olovo. Basically, we drove back and forth across our AO three times. The generators showed up for the convoy SP 90 minutes late, then required maintenance because they wouldn't start. The only redeeming facet of the mission was that the cook was very cool, hooking me up with two bunches of fresh bananas. (He was also from Wisconsin.)
Exiting LA Demi is a pain in the ass. There's only one road, no adequate turnaround, and contstant tracked-vehicle traffic. That lead to additional delays in our mission, to the point where in our third trip by, I had to radio SSG Ikner, my Scout sergeant, to block off the main road so I could get out.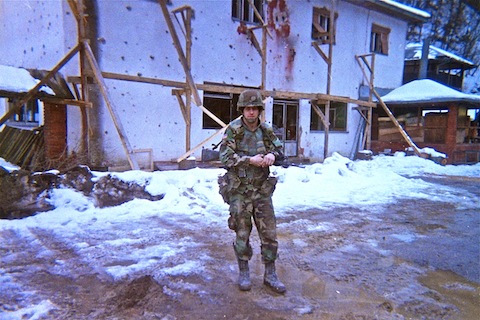 14 Mar 96, Thu — Olovske Luke
Today is the JCC.
My uniform is splattered with mud, laundry won't be in until 0800, we SP at 0730 and so my clothes will be filthy. I have a dirt tan, even after a wet wipe bath. I hardly think chipping the mud off my boots will improve my appearance, yet that is what I've been told to do. When I was enlisted, I was honor graduate of my basic leadership course, primarily due to my grades on inspections, so I can hang in the appearance game. But cleaning my boots under these circumstances is so obviously superficial that it defies common sense.
We split off from the main convoy to go into town to get a guest list from the mayor of Olovo. Even though he was the featured Muslim guest, he decided not to attend. It seems he had consulted with his superiors in Sarajevo and they told him not to go. (Even though Bosnia is nominally a democracy, it remains a rigidly controlled centralized government; the mayor of Tuzla is the only one who is not a member of President Izetbegovic's SDA party.) The mayor gave us a whole laundry list of reasons, which basically boiled down to 'We are using you to advance our own agenda.'
Then we went up to Kladanj to repeat the process with its mayor. The mayor of Kladanj was only being invited to make an even 2:2 Muslim-Serb mayor ratio. (Kladanj is in the 4/12 Infantry sector, not the 2/68 Armor sector.) Because he is good buddies with the mayor of Olovo, we did not think he would attend either.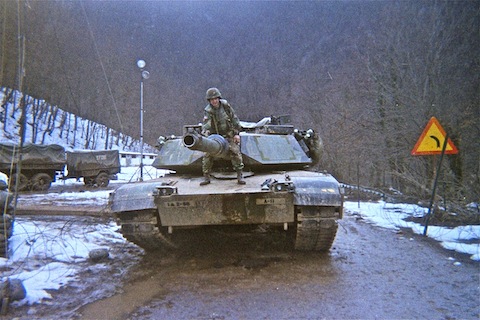 With the mayor of Sokolac acting like an ass the other day, it would not have been a surprise if no one showed up. That would have meant that all the preparation that blew up this simple 'get to know you' between humble mayors into a summit between heads-of-state would have been a total waste.
Getting all the military vehicles into CP Sandra was a major cluster fuck. There were 30 vehicles — Humvees, 5-tons, Hemets, M1A1 tanks and M113 APCs — crammed into an area the size of a restaurant parking lot. Which is what CP Sandra was before the war. There was brass all over the place. I was getting uncomfortable with all the overkill, so I simply waited by my Humvee. If I had tried to pitch in, it would have only contributed to the confusion.
Getting the vehicles out was also a cluster fuck. It went alot quicker because everyone was eager to get out of Dodge, but the QRF was in the way. Or vice-versa, because tracks don't get in the way of Humvees. Or not, because Humvees are only speed bumps to an Abrams — as one unfortunate found out. Luckily, no one was hurt.
Somehow the meeting itself went off without a hitch. Nothing concrete was accomplished, but simply getting the Serbs and Muslims to sit down at the same table and be civil to one another was a signifiicant first step.
---