Introduction
This journal is not meant to be a comprehensive analysis of the great sweep of Balkan events since it all began in 1389 at the Battle of Kosovo Polje. That would be impossible in this context. Instead it is the story of one soldier's experiences in Bosnia from January to March, 1996. It is what I saw and thought at the time.
I had two goals when I started my internet journal: One, show what kind of high-speed, can-do organization civil affairs and special operations forces are. Two, give the public an idea of the day-to-day reality of what it's like to be in a war zone — with all the attendant joy, despair, humor, boredom, etc.
What other type of soldier would have thought to do the same thing? In 1996? The early days of the internet, when all we had was dialup modems, slow ones, and most web sites had a plain grey background with black text and blue hyper links.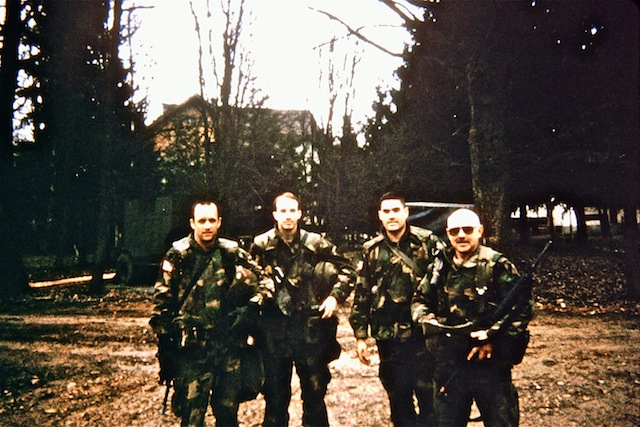 Since there were no smart phones, or social media, I faced a challenge in regularly posting my diary. Blogging, if you will, before that became a new term for an old concept. A laptop would have got destroyed, and in any case, there were no phone connections, let alone one that was reliable, and to which I could attach the modem I would have to drag along. So, I looked into Global System for Mobile Communications (GSM), which is basically a phone that talks directly to satellites. Technically I could have pulled that off. Financially? No so much. As I recall, a GSM phone then cost around $3,000. I'd just come off a period of unemployment, so that was not in my budget.
I had been a regular participant on the #truthdare Internet Relay Chat (IRC) channel since about 1994. I asked around #truthdare, and one of other participants, Scott Naness, agreed to maintain / update the journal while I was gone. I brought an ample supply of extra floppies, so I could snail mail chapters to Scott on a regular basis. (Whether they arrived in New Jersey on a regular basis is another matter.) I preformatted a number of different types of pages, so all Scott had to do was load the ascii files onto his web server. The icon links were hard-coded to refer to existing graphic files on my web server. The net effect was seemless. Thanx Scott!
There is no sugar-coating. An explanation of my feelings after the fact would be an attempt at justifying that which needs none. So, it is presented as it was written.
---