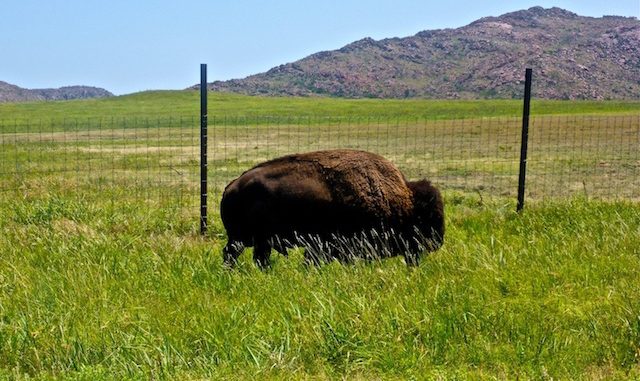 My favorite soccer player is Greek international Georgios Samaras. Big Sammi played six years at Celtic, before moving on to West Bromwich Albion in England, Al-Hilal in Saudi Arabia and, eventually the American second division NASL with Rayo OKC. Rayo is a first year affiliate of Rayo Vallecano, Madrid's third team after Real and Atletico.
The last time my wife and I saw Big Sammi play, in person, was at Celtic Park against St. Mirren, when we visited Scotland in March, 2014. I figured Oklahoma City was as close as we would come to ever seeing him play again, so we made plans to visit when Rayo OKC had two home matches in four days.
We had visited Oklahoma before, in 2008, on our way back from road trip to Road America in Elkhart Lake, Wisconsin. We hit all the cheesy tourist sites on the way out, and a few on the way back. One of those was the crossroads of Meers, home of the Meers Store and its top-rated Meersburger. Or, as I like to tell it, I sold my wife the vacation so she would buy me driving halfway across America so I could eat a hamburger. 

The Meers store was closed the day we arrived, so we stayed overnight in Medicine Park, an old Bonnie & Clyde hangout adjacent to Ft. Sill and the Wichita Mountains Wildlife Refuge. Passing through the Wichita Mountains, we saw longhorn cattle, buffalo and prairie dogs.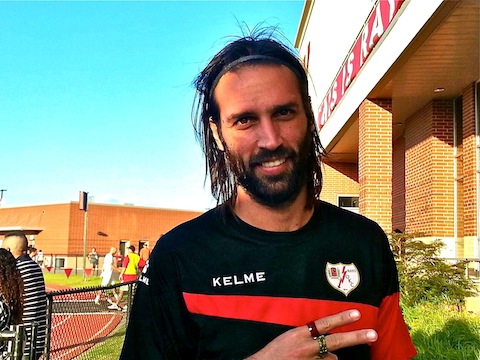 Because I don't like travelling anywhere with out getting in at least one hike, and because we would need some things to do on Thursday and Friday, a plan came together: See Big Sammi play on Wednesday. On Thursday, tourist, then onion burger at Sid's Diner in El Reno. Friday, drive county highways down to Comanche County, hike the Bison Trail in the Wichita Mountains, lunch at the Meers Store, drive back to Oklahoma City, then onion burgers for dinner at Robert's Grill in El Reno. Saturday, tourist some more, onion burgers for dinner at Johnnie's Grill in El Reno, then watch Big Sammi play against the New York Cosmos.
Regarding Rayo OKC: They might be a new club, but it is a first class organization. Very well run from the souvenir stand — Thanx Beth! — to the concessions, stadium, player access, etc. Even though they are in the second division, what games they don't have on national TV, are streamed on the internet (usually espn3).
Regarding the burgers: El Reno is well known for its onion burgers, thus our nightly detour. Sid's was okay, Robert's was permanently closed, and at Johnnie's not only was the burger outstanding — even better than a Meersburger, IMHO — but the service was great as well. At Johnnie's the food came quick, it was sizzling hot, and the burger was big & juicy. I highly recommend Johnnie's.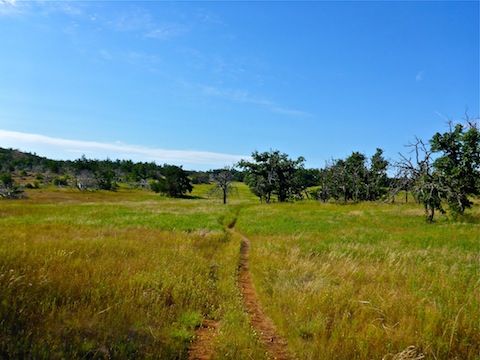 On to the hike …
After heading west a bit on I-40, we took OK-58 nearly all the way south. Nice drive, very little traffic, and avoided the I-44 tollway.
There's two trailheads that access the Bison Trail: As you head south on Indiahoma Rd. from the park headquarters, the first is a few hundred yards down an access road. The second is a half mile further south. Both are on the east side of the road. The Fawn Creek Campground, on the west side of the road, between the two, has latrine facilities, but is gated with reservations only. If you have to drop a bomb, use the visitor center at the intersection of OK-115 and OK-49.
From the first trailhead, Bison Trail is a 5.3 mile loop; from the second, a 6.5 mile lasso. Shorter loops, of .75 to 3.5 miles, can be done using the Elk Trail or Longhorn Trail. If you are doing the full Bison Trail loop, there is no significant distance savings taking Elk or Longhorn. As the drive took longer than expected — I made two wrong turns — I started my hike at the first trailhead.
There was a steel matting "bridge" across the shallow flow of Fawn Creek, across which is the first trail intersection. Left to do Bison clockwise, straight across onto Elk Trail, right to do Bison counterclockwise. I went right.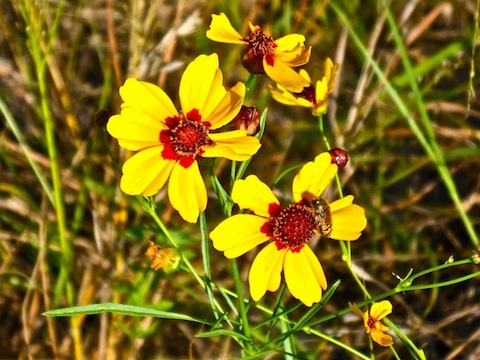 To avoid airline / TSA luggage hassles, I left my pack & poles behind. So, all I carried was two bottles of water, a high cacao energy bar and a packet of Honey Stinger energy gels.
The loop is highly exposed to sunlight. The only shade is along Fawn Creek and Fish Lakes. It was hot enough — 88° and 65% humidity — that there was a heat warning sign at the trailhead, but I figured five-something miles, no problem. I'm from Arizona!

Most of the hike is across grassland on the plateau, with some variation across a few small patches of slick rock down Dog Run Hollow to Forty Foot Hole.
There weren't many flowers, other than some decent patches of daisy-like things the first three quarters of a mile. I passed a pond, where I saw a turtle and either a crane or heron, not sure, which landed in a tree. Other than tons of crickets / cicadas and dragonfly / damselflies, they were the only wildlife I saw my entire hike. (We spotted two elk and a lone bison on the drive back to Meers.)
Just past the pond is where the the second trailhead accesses Bison Trail. All named trail intersections have a map board to guide you. Occasionally, there will be some small signs, close to the ground, with animal profiles to indicate which trail you are on. It is easy to wander off trail, as many areas of Bison Trail are overgrown with grass, across slick rock, choked with vegetation or intertwined with side trails.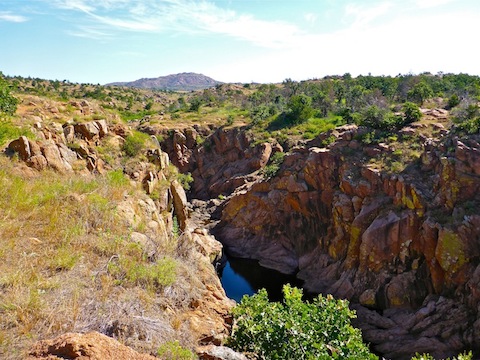 By the time I reached West Cache Creek, I was soaked head-to-toe in sweat. Forty Foot Hole is a small canyon, maybe a half mile long and 150 ft. deep, where Bison Trail reaches West Cache Creek. There are several easy, safe, descents, including one from Boulder Camp, to the east, on Kite Trail. (I saw scout / church group heading down that way.) There's plenty of water at the bottom of Forty Foot Hole, but it was pooled, not flowing. Unless you get lucky and spot a herd of buffalo, Forty Foot Hole is the highlight of this hike.
By the way, do you pronounce that "ka-shay" or "cash"?
The cacao bar was hideous, and made me thirstier. Not good. I tossed the remainder in the grass. The Honey Stingers, grapefruit this hike, were delicious and energizing as usual, which was important as the heat was really running me down.
North and west from the top end of Forty Foot Hole, Bison Trail follows West Cache Creek through Fish Lakes to French Lake. There is plenty of vegetation along the water line, but the trail is upslope a hundred feet or so. There's a whopping 10 dams in the two miles between Lost Lake and French Lake. There's a small patch of shade between dam #1 and #2, and another between #6 and #7, and that's it. There may be some shade along French Lake, but I accidentally diverted onto Elk Trail at French Lake Dam (dam #10).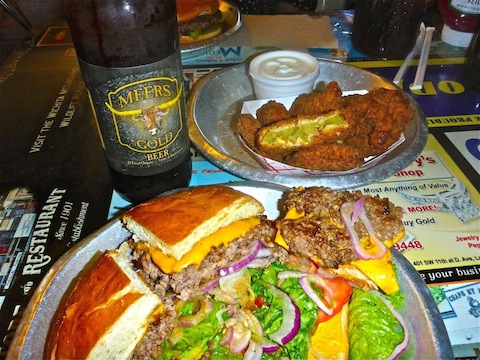 After the hike we stopped at the Meers Store. I was so sweated out — a bottle of Gatorade would have come in handy — that I drank two Miller Lites, followed by a Meers Gold Beer with my burger. Despite my best efforts at rehydration, I still got several hamstring cramps while we ate. Oh, and probably some chiggers too, as my feet & legs have been extremely itchy the last few days. But that's hiking!

GPS File: Wichita_Mountains_Bison_Trail
Distance: 5.91 mi.
AEG: 511 ft.
Time: 2h 20m
---
Hike Video