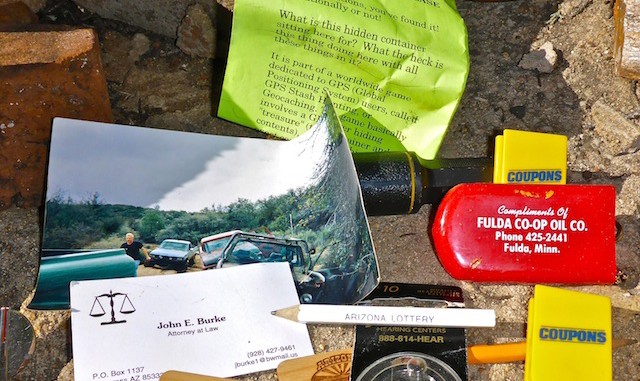 I've been planning to explore the mines between the Hassayampa River and Maverick Mountain—the Gold Chief Mine, Jersey Lily Mine and Goldwater Mine—for several years, ever since I explored the Climax Mine, which is right on the Hassayampa. No way I would have the endurance to check them all, let alone the time, as I would be hiking, not OHVing in. So, one at a time. First up, and apparently easiest, would be the Big Chief Mine, and with my hikes over the past two months, I should be ready.
FR 97B is a good road. Not car-drivable, but SUV-drivable in all but maybe a few spots. Something like an Xterra would have no problem with it.
Temperature was cool to start, but good for hiking, low 50s. There is plenty of high quality shade along the route, but few sitting rocks. The shade came in handy on our return, as it was feeling quite warm. Despite several weeks of warm weather—by Prescott winter standards—there were still numerous patches of snow & ice in the shade, even on the road. Prescottstyle & I had to watch our footing.
The steepest parts of the hike were after crossing the Hassayampa River, which currently has good flow, and from FR 97B up the Big Chief Mine hill. Otherwise, what seems like a lot of AEG is mostly steady gain, with a few ups & downs. Even the return trip has about 600 cumulative AEG.
We only saw one OHV all day.
The Scotty Spring Mine is obviously still active, or at least occupied, so we skipped that. The Oro Flame Mine, on the west bank of the Hassayampa, was too far off, by that point, to divert down FR 73 to check it out. Plus, it also looked active.
What I thought were lower adits of Big Chief Mine are actually part of the Independence Mine. The claim paperwork is 20 years old, and it does not appear to have been worked in 20 years, let alone the annual work required to maintain a claim's legal status. Any adits there have been covered up by the very loose dirt which has washed off the hillside. The wash looked like it might be an easy, uncongested, route down to the Hassayampa River. It certainly was uphill, back to FR 97B, which it joined right right at the junction of the side trail up to Big Chief Mine.
Good thing I hike with my eyes down, as the first Big Chief shaft was right next to the trail. Unfenced. One could easily fall in if not paying attention. While exploring the hill top, Paul found a test trench that appeared to be in line with the 100-level of the shaft #2, as if the trench was to see how far the vein they were mining continued. There is at least one flattened building adjacent to shaft #2. Paul subsequently did some research, discovering it was the post office for Big Chief, Jersey Lily, Goldwater, and other area mining operations. We had some lunch, me sharing my gorp, as Paul's bananas had got crushed in his pack.

Paul spotted the geocache that I was sitting right next to

. I signed us in the log. I had wanted to check out the adit on the north slope, but it was 100 densely brushy feet down, and I was already wore out, probably due to the elevation. (The trailhead is at 5600 ft., whereas Harquahala Peak tops out at that height.)
Nothing else of note occured on the long slog back to to the trailhead. When we got to the Hassayampa River, rather than rock hopping, I went right through it. (It is shallow.) HOLY GOD IT WAS IT COLD!

Fortunately, I had brought dry socks and a pair of loafers for a comfortable return drive.

GPS File: Big_Chief_Mine
Distance: 13.23 mi.
AEG: 2,229 ft.
Time: 5h 20m
---
Hike Video