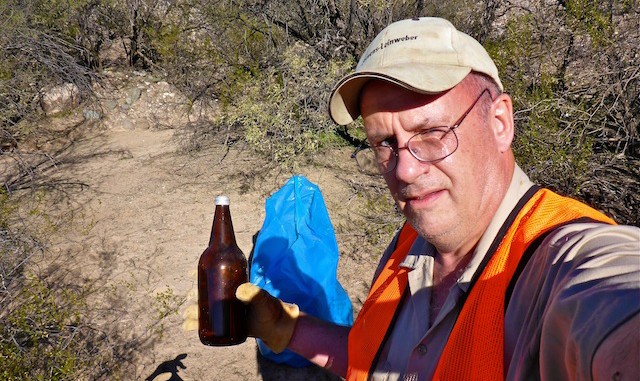 The Aravaipa Property Owners Association cleaned up their section of AZ 77, just south of Aravaipa Creek, today. We also had a crew cleaning up along Aravaipa Rd.I figure I did maybe a half mile of one side. Lots of beer containers, 90% of which were, of course, Bud Light. Some cans were so old, and rusted, they crumbled when I picked them up. Lots of beer bottles as well, many broken. I even picked up what looked like one trucker bomb. (It was only half full 16 ouncer, so he must not have been driving long.)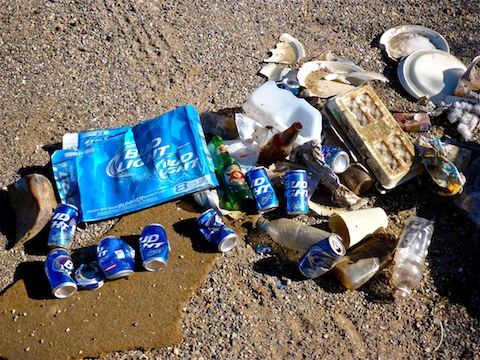 I got off track, down the berm, finding myself with a very heavy full bag. It took quite a while to heave myself, and the bag, back up the slippery, loose berm, and do so without the broken glass in the bag bumping against my leg. I am actually sore this evening.
I suck at backing up. My Acura RDX has a backup camera. So, of course, I backed into my neighbor Richard's gate.

 It bent a little. Since him & his wife Polly are thinking of renting their guest house to hikers/whoever, I offered to compensate by doing a web site for him.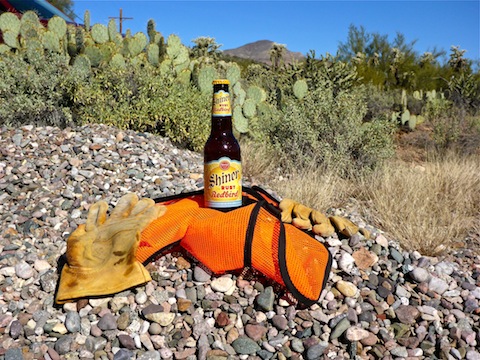 Distance: 1.05 mi.
AEG: 40 ft.
Time: 1h 28m
---
Beer, Beer, Beer Video