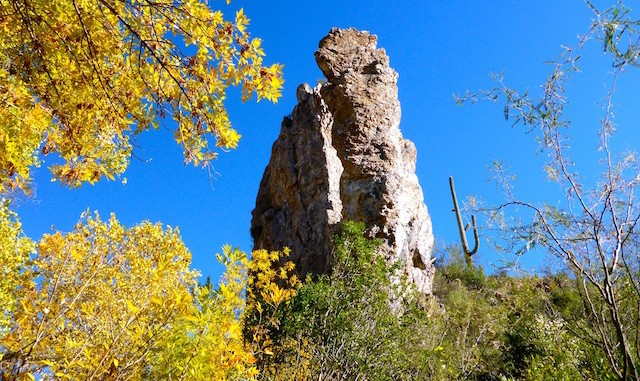 I was in the Telegraph Canyon area last December 1st, looking for a route up the White Rock 3012 monolith, when I noticed a side canyon, just south of FR 4, that had some amazing yellow late fall color. I couldn't get out there the same weekend this year, so a few weeks ago I figured I would hike Picketpost Circumference to get my fall color fix. I was too early. So, I put together a loop to combine the two, and do it as close to peak as my schedule allowed. That would be this hike, here.

Starting just before 0800, I had good light. It really made the heaps of garbage pop. It seemed the locals would not mind, so I used one heap for a latrine.

The colors started a half mile later. Some real nice yellow in that section of Arnett Creek. I saw one cattle that was scratching a rear hoof behind his ear, just like a dog or cat. I did not know cattle did that!
There was some spot color in Wood Canyon before I began the first climb of the day, along the emerald rocks, to the saddle between Wood Canyon, Filaria Spring and the Unnamed Canyon. I hoped to find fall color extending further south into the Unnamed Canyon, than I had previously noticed, but no such luck. (Other than some flowers.) Jillions of pools, though, the entire length of the Unnamed Canyon. I was expecting some falls, or scrambling, but travel was fairly easy. Certainly easier than negotiating the ankle breakers in most creek bottoms.
I could have hiked the first and last third quicker, but I was taking my time, scanning 360, looking for good color. In the middle third, climbing from FR 4 up to the observation point I was feeling my lack of hiking (due to family issues) the last few weeks. I actually thought about bailing, but decided to press on. My knee tendons wrecked their vengence on me later that night.

From the OP, I spotted one lonely red tree in Arnett Canyon, the rest were yellow. I worked my way along the Telegraph Canyon rim, looking for other possible descents, but ended up settling for the established short cut, which ended up being only 80 barely noticeable feet.

The color was definitely better on the canyon bottom than a few weeks ago, and I was able to get some very pretty pictures of yellow leaves framing the Finger Rock.

It took me awhile to find the red tree, and I was worried I may have missed it, but find it I did.

I wish I could have been out there this upcoming weekend: I recommend that you give this loop a shot after Thanksgiving. You won't regret it.

GPS File: Arnett_Creek_Telegraph_Canyon
Distance: 9.15 miles
AEG: 1,086 ft.
Time: 5h 02m
---
Hike Video