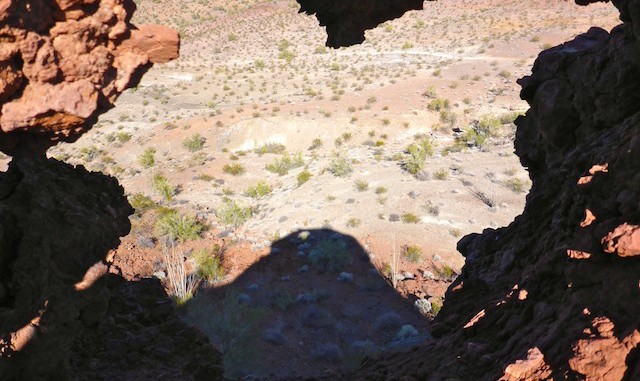 It was 27°, at 8:00 a.m., when we made our traditional stop at the Wickenburg Shell station. I hoped to have better luck with the temps than my Power Ball.

On our drive west on U.S. 60, then north on Alamo Rd., we saw snow on the north slope of the Harquahala Mountains, the north slope of the Harcuvar Mountains, the east slope of the Rawhide Mountains, and even on the desert floor of the Butler Valley (in shaded gullies).
Park Rd., Wickenburg Rd., and Brown's Crossing Rd. were not bad at all. Easily SUV drivable, probably even car drivable. (Only issue might be some slightly deep gravel, in spots.) Checked out what appeared to be an old campground, splitting off towards the arch. Soon realized that would be a non-starter, so parked it, and started walking.
Got up to FR 7628, which connects to Brown's Crossing Rd., and is also car drivable for at least 1.5 miles. First stop was supposed to be a shaft, but the location turned out to be dead bottom of a wash, which would just about be the worst place for a shaft. Just a bit up wash, though, on the side, was a neat little adit. They must have given up quick, as it didn't go in very far.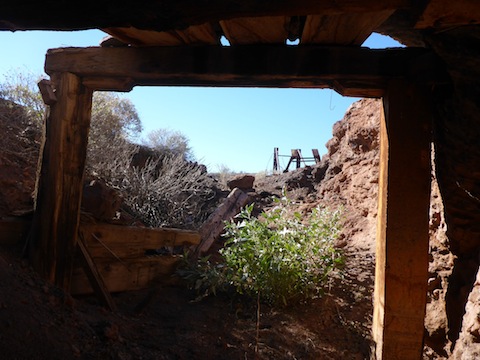 Then I checked out a bunch of prospects, all to no avail. I skipped a second mine, near Hill 1492, in favor of climbing a hill. Great views from on top, so I stopped for lunch.
I descended across a saddle, then a steep & slippery hill side. I checked out some more prospects on my way to the arch. (Also finding zilch.)
I approached the arch from the northeast. In order to get a closer shot, I worked my way up the steep & slippery slope. I soon realized I was not far from the top, pulling myself up to a small ledge. Seeing the arch's shadow through the arch itself, was the highlight of the hike. After enjoying a Newcastle Brown Ale, I descended the arch's mild southwest slope, back to the jeep trail.
My GPS map mislead me into some old lake growth, when I should have split off to the right, but no big deal, I was soon back at my car.
We stopped at the Wayside Cafe in Cabal, next to the airstrip at the corner of Park Rd. and Wickenburg Rd., for a post-hike brew. The Cardinals were up 14-6, which a minute later became 14-13. There were jillions of $1 bills on the ceiling, so when I put mine up, I name-checked HikeArizona.com.
GPS File: Alamo_Lake_Arch
Distance: 9.11 mi.
AEG: 1,051 ft.
Time: 3h 48m
---
Hike Video