Moving Out: To Bragg and Beyond
Ft. Bragg, NC—The unforgettable moments will also include, as in all wars, mail call, when the indispensable touch with home, friends and family was restored. Also as in all wars, will be mess hall memories. The food, by comparison with what was heard from dads and uncles of previous wars, must have been better by far. And, as time went by, members of the 432nd and the mess hall's food service people got to recognize one another. One or two of the headcount girls began remembering the last four social security numbers of 432nd members, while members of the 432nd looked forward to Torrey, the egg girl. Over the noise of the entire mess hall, Torrey would belt out her daily greeting to each of the troops as they came through the door, "How would you like your eggs today sir?" Towards the end of the unit's time at Bragg, some people would yell back, "The usual." And Torrey would know what "the usual" meant. She will be remembered as a little ray of suhshine by many who look back to that time.
Another part of the process became such an institution at Ft. Bragg it inspired the designing of a commemorative tee shirt. The tee shirt featured the words "Gumby's Patrol" and a colorful picture of the renowned Mr. Gumby, green and flexible. Mr. Gumby was adopted as the unit's mascot because the troops decided they had a lot in common with Mr. Gumby: they also dressed in Green and they were constantly told to remain flexible by the First Sergeant and staff officers. Flexibility became the unit's unofficial motto.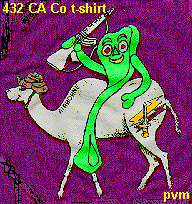 ---
McMurry's Notes
Gumby was most often flexed into compromising positions with Pokey.
Moments I would rather forget include CPT Stout's habit of leaving the door open on the toilet stall so he could try to engage the unwary in deep philosophical conversations while they tried to brush their teeth in the morning. It's only natural to look at someone when you are talking to them, but who wants to look at a fat guy taking a dump?
---