The Kurdish Detour
Zakho, Iraq—When the buses of the 432nd reached their destination, unit members found themselves unloading in a moderately large valley, knee high with green wheat. A small cluster of newly erected tents stood off in the distance, and beyond them, the mountains, mountains housing tens of thousands of Kurds who would soon be converging on the tents of the green valley. The day after the unit's arrival, work began in earnest. For some, that meant setting up a command post; for others, that meant listening to LTC Mike Hess and the State Department's Fred Cuny outline the immediate tasks requiring action. The tasks focused on the work of specialty teams dealing with administration, food, water, sanitation, and health.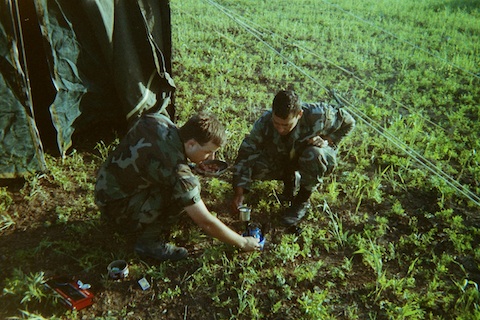 In the following days, the familiar sounds were those of constant hammering: nailing lumber for latrines and pounding stakes for tents. By Monday, large numbers of Kurds began the tedious trek to their assigned tents from the in-processing center, where the sounds now included screaming children being vaccinated.
To the sounds were added the growing number of sights, now including more refugees and troops of different nations. Kurds began streaming in from the mountains and varieties of soldiers — French, Dutch, British and Italian — contributed to erecting tents, building latrines, providing medical services and health screening. In about ten days the camp population had swollen from about 2,000 to nearly 10,000 people.
---
McMurry's Notes
Chameju, Iraq—The morning after we arrived at the SF base camp, I awoke to find that the rain had washed off enough dirt to reveal the edge of a small, black, metallic cannister about three feet from my hooch. My first thought was "mine". Naturally I had to investigate further. I lightly brushed some dirt away and it still looked like a mine. So I got the demo guy from the ODA to take a look at it. He brushed some dirt away and it still looked like a mine. By this time a small crowd had gathered. The demo guy scrapped enough dirt away to tie a shoelace around a part of the cannister. Then we all stood back about five feet. (Enough to be cautious, but not so far it would make everyone else think you were scared.) The demo guy jerked on the shoelace and in a spray of dirt — a gas mask popped out of the ground. It's amazing how much the filters on a Soviet gas masks resemble their anti-personnel mines!

Standing a safe five feet from the mine.

Fred Cuny disappeared in 1995 while on a relief mission in Chechnya.
---