Mission Deployed: Kuwait City
Kuwait City—A lot had been achieved since that first visit to Bayan a few weeks earlier. So much that it seemed like a few months earlier. The statistics however were as impersonal as reading the score of a basketball game which one has not seen, "You had to be there." The statistics hide the story behind such things as CPT Debra Luebker's being kicked by a horse, or SPC Mike Rabideau's picture appearing in USA Today, taken while feeding a handicapped child. The media also could have gotten newsworthy shots of CPT Gerald Watson rounding up stray cattle on Kuwait City streets, or SSG Jim Eliason's feet protruding out from under a disabled Kuwaiti police car. MAJ Carl Fisher could have been photographed ducking bullets, or SSG Don Hanson and SSG Bob Anderson's faces taken while riding their water truck and being told by a child in another car "Thank you!"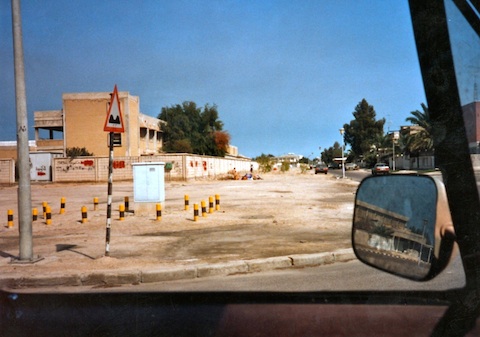 SSG Steve Dutch's picture could have caught him exchanging ideas with a former Kuwaiti resistance fighter who never thought he'd survive being a POW in Baghdad. The scene around SSG John Holmes would have been a largely Philippino congregation at the Kuwaiti Cathedral as he read the lessons for the Good Friday liturgy. The media actually did broadcast the Commander's interview with reporters on NBC TV.
Another photo of unit members in their line of duty could have caught SGT Hamad's face change as he listened to the story of a father whose five children were slain in front of him and his wife by Iraqis. And somehow it would have been incredibly appropriate to have that photo of CPT Tim Yancy riding a bike with a bunch of little kids gleefully looking on. "You had to be there," because, the world will never know what powerful memories these people bring home with them. And these are just a few of the photos the media never got. Ask anyone else and they will have a picture, and a thousand words besides. The statistics say nothing!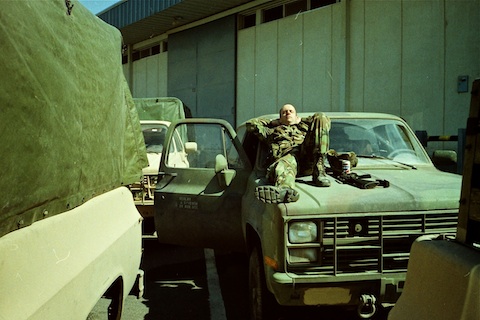 ---
McMurry's Notes
Many times when my team was out surveying schools, one of the locals would pull us aside to show us some UXO the Iraqis had left in their neighborhood. Normally EOD would blow it in place. Once we had EOD out to blow up some UXO in a vacant lot in a residential neighborhood. We hid behind a house when they blew it. And that's where I discovered a whole garage full of 81mm mortar shells. Dozens and dozens of cases of them. EOD couldn't blow that arsenal in place because they would have taken out the neighborhood too. Some untrained people feel the need to be a bigshot by trying to disarm UXO themselves (as Captain Stout was prone to do), but I don't get my shits & grins by being Mr. Wizard. SGT Monfort and I looked at the EOD guys, who looked back at us. They didn't have any room in their truck, our pickup was empty, and the stuff had to be moved. So we moved it. Carefully. The heavy demo site (where EOD would do 500 kilogram shots) was near the airport. On the 30 minute drive over there Monfort and I joked about how if we hit a bump we'd never know it. When EOD blew the stuff up it was awesome. We were a half mile away from the shot. First a big mushroom cloud went up, then a few seconds later the shockwave rolled over us. Fire is cool, but explosions are even better because you get desctruction and fire. God, I love explosions!
The main recreational activities in Kuwait City were volleyball and cards. I played so much Uno — up to six hours a day — that I got sick of it. I haven't played it since.

Gumby made more appearances than Kilroy.
---